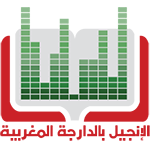 Description
Read and Listen to the Bible in Moroccan Dialect. Discover the Bible in a new Way

Description
This App offers Arabic sermons and hymns. You can choose by country or artist for hymns, and by pastor/minister or country for sermons.

Description
​Kalimat App is your reference library to help you master the living Word of God. The library includes Arabic Christian books on Personal Living, Family, Doctrine, Church Related Matters,
More Articles ...
Guide

To The Arab World

A Christian guide featuring maps, statistics, mission works and others.