Injeel HD App for IPad
Page 1 of 3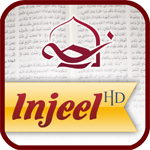 About Injeel App – The Hub for Arabic Bible Studies
For the word of God is quick, and powerful, and sharper than any two edged sword, piercing even to the dividing asunder of soul and spirit, and of the joints and marrow, and is a discerner of the thoughts and intents of the heart. (Heb 4:12 KJV). 
Welcome to the Arabic Bible Hub, featuring commentaries, dictionaries, advance Bible search and cross-reference topical studies. Our plan is to keep adding more Bible study tools in order to help God's children grow in the grace and knowledge of our Lord Jesus Christ. This application is based on the iBible-Study HD which supports the free RTF modules (compressed and uncompressed).
This app is designed for Apple IPad only.
Main Features:
Up to three re-sizable panels to make your study much easier.
Customizable panels: Each panel could have tabs for Bible, Dictionary, Commentary, Books, Notes and Search results.
Search for words and phrases.
Pinch to zoom in/out.
Full screen mode.
Bible verse highlighting.
Download manager for Bibles, Dictionaries and Commentaries.
Support file sharing. Install new modules through iTunes.
It's Free. No ads, no hidden fees.
Download it from Apple store here
All copyrights for the Smith Vandyke Arabic Bible belongs to Arabic Bible Outreach Ministry. The text of the vowelled Vandyle Bible, the Arabic commentaries and Arabic Bible dictionaries are provided for the personal use of the readers. Copyright ©2014 Arabic Bible Outreach Ministry. All Rights Reserved.
If you have any questions please visit www.injeel.com, email us at This email address is being protected from spambots. You need JavaScript enabled to view it. or post your comments below: