The Arab World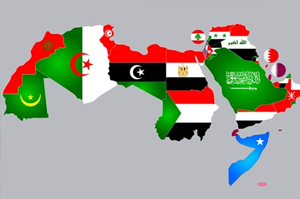 Approximately 400 millions Arabs are living today on more than 4 million square miles of a very strategic land. A gateway to three continents, Asia, Africa and Europe.
It is possible to map three regions within the Arab World: The Gulf, The Fertile Crescent and North Africa. Many Arabs live also in the West.
The 20th century will be remembered in the collective Arab memory as a period of failure and humiliation. Despite vast oil resources, the Arabs find themselves at the dawn of a new century as weak and dependent on outside powers as before.
To make any kind of progress among the Arabs, we need to demonstrate Christian love in a hospitable and humble way.
We need to pray for

the Arab indigenous Church to grow. It's future is as bright as we are willing to stand in the gap (Eze 22:30).
We need to pray for Christian migration to cease.
For new workers to be sent.
For teaching aids to be added.
For the Christian mass media to be become more effective.

May our Lord help us to take a stand to promote His kingdom in the Arab world.
For more information, please refer to The Spirit of Islam site.