Guide To The Arab World
Most of the maps found this these pages are from Graphics Maps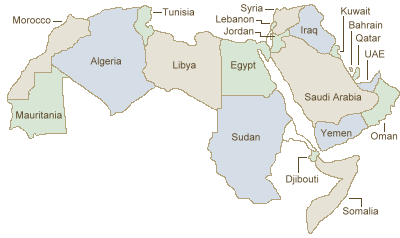 These pages are designed to assist:
Travelers anticipating a trip to the Middle East will learn about culture and beliefs of the people they will encounter.
Those who work with colleagues or neighbors from Middle Eastern countries.
In praying effectively for each Arabic Country

The Arab indigenous Church to grow. It's future is as bright as we are willing to stand in the gap (Eze 22:30).
For Christian migration to cease.
For new workers to be sent.
For teaching aids to be added.
For the Christian mass media to be become more effective.
May our Lord help us to take a stand to promote His kingdom in the Arab world.

Briefing on the state of the Christian Evangelical Church in each Arabic country.