Qatar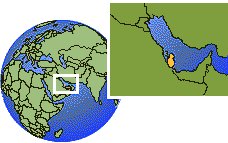 The time in Qatar is : click here
Detailed Map of Qatar |  Flag of Qatar
Qatar covers a peninsula on the Persian Gulf on Saudi Arabia's eastern coast. Qatar is mostly desert, with negligible rainfall, but irrigation allows many fruits and vegetables to be grown. Large oil and natural gas reserves provide the major source of foreign trade. The Arab Qataris live in great wealth, but the Asian population lives in poverty.
Qatar is an absolute monarchy under the rule of an emir. The nation was once part of the Turkish-Ottoman Empire until 1918, then was under British protection until independence in 1971.
The strict Wahhabi form of Sunni Islam is the state religion and Christian witness is restricted. With no official status (except the Anglican Church), Christians must meet in homes.
 

Area:
11,437 sq.km.
Population:
561,000 (1997)
Annual Per Capita Income:
US$11,570 (1998)
Literate Population:
79.4% (1995)
Religions in % of Population (1995):
Muslim (mostly Sunni)

95%

Hindu

1%

Other

4%

Official Language:
Arabic