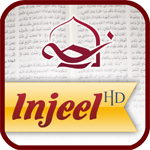 Welcome to the Arabic Bible Hub, featuring commentaries, dictionaries, advance Bible search and cross-reference topical studies. Our plan is to keep adding more Bible study tools in order to help God's children grow in the grace and knowledge of our Lord Jesus
Arabic belongs to the Semitic family of languages, which also includes Hebrew, Syriac, Aramaic, and several languages of Ethiopia, such as the Amharic and the Tigrinya. Arabic and Hebrew are the only Semitic languages that are still used today both in their writing and speaking forms.
Sacrifices are an often reoccurring theme in the Torah. The Quran too acknowledges that animal sacrifice was commanded by God in the time of Moses (Surah 2, Al Baqarah, verse 67). Its main meaning was that it made atonement, it took away the sins of the people who offered it (Leviticus 17:11).
More Articles ...