THE SEVEN PIONEERS OF SYRIA MISSION WORK - ISAAC BIRD, THE HISTORIAN
Page 5 of 9
IV. ISAAC BIRD, THE HISTORIAN
The early history of the Syria Mission needed a historian. Syria and Palestine were then a "terra incognita," and the American Church needed men of careful observation and facile pens, to report on what they saw and heard in the East. The journals of Parsons, Fisk, King and Bird drew attention to the spiritual and intellectual needs of this people. Mr. Bird was a man of great powers of observation, a ready and accurate writer, and of methodical turn of mind. He left on record a history of "Bible Work in Bible Lands," which is the best account of those early days.
Associated with Fisk, King and Goodell, he made numerous journeys, exploring Syria and Palestine. And when the whole missionary company retired to Malta on account of the Greek war in 1829, he visited the Barbary States of North Africa. In his journal published in the Missionary Herald, 1830, he gives an account of a tour in the Island of Jerba off the southern coast of Tunis, where, after a battle on the 12th of May, 1560, in which eighteen thousand Spanish soldiers were slain, their bones were -gathered by the Moslems and built up with mortar into this grim trophy of their victory. He also gives descriptions of the grand reservoir of ancient Carthage, consisting of seventeen cisterns side by side with vaulted roofs, and covering a space of four hundred and twenty feet by fifty-four, with a depth of twenty feet, which were filled by an aqueduct fifty miles in length from Mount Zguan. He had previously described the ruins of the ancient subterranean corn magazines of Tripoli mentioned by classic writers.
Returning to Syria May 1, 1830 he resumed his visits among the people. He had interviews with all classes, Moslems, Greeks, Maronites, Druses and Jews. He called on the higher ecclesiastics and tried to persuade them to reform their Churches and thus remove the stumbling-block of Mariolatry and creature worship which repelled the Moslems from Christianity. But, as he says, he found "Ephraim joined to his idols." They rejected all ideas of reform and began to denounce him as a "Biblianus" and a "Rabshoon" (lord of the infernal world), terms which they bad applied to Asaad es Shidiak, the martyr of Lebanon.
Curse followed curse and excommunication followed threatening, until it became difficult for any American to hire a house or buy the necessaries of life outside of Beirut. The Maronite patriarch and the Maronite Emir Bushir ruled Lebanon with a rod of iron, and orders came from Rome to persecute, drive out and exterminate the accursed Angliz or English as all Protestants were called.
Mr. Bird and his colleagues saw from the very outset that these idolatrous Oriental Churches were the great obstacle to giving the Gospel to the Mohammedans. The Moslems whom they met taunted them with worshipping pictures and images, and were greatly delighted to find out that they did not. Then they charged Christians with having three Gods, and the subject of the Trinity proved a real difficulty in the minds of men who insisted that they would not believe what they could not understand, Early in Mr. Bird's career he met the papal legate, Monsignor Gandolfi of Antoora. He was seventy-four years old and had lived in the country thirty-nine years, He had suffered greatly, had been assaulted and stabbed by Druses, deceived by Maronites and Catholics, and had lost all confidence in the people. His salary had not been enough to save him from poverty. He told Mr. Bird that he had always enjoyed the calls of English and American travelers, but, said he "This terra sancta, this land of holiness, has become a land of devils. It is no longer the blessed but the accursed land. I have had transactions with princes and people of various grades, with patriarchs, bishops, priests, monks and laymen, but not one man of integrity have I found among them all!" This was a damaging indictment from the Pope's nuncio in Syria, and he evidently had come in contact with the class of men known throughout the East as masters of political intrigue and hypocrisy, viz., the Oriental ecclesiastics. Yet there can be no doubt that the Oriental Christians in general have been sadly demoralized by the confessional and priestly absolution. Ignatius Peter, Syrian Patriarch of Antioch, living in the Convent of Mar Efram in Lebanon, declared the Pope to be not merely Bishop of Rome, but "General Director and Head of the whole habitable world." In 1825 Mr. Bird had a school with eighty-five pupils, all Arabs, and all boys but two. Three of the boys were Mohammedans. Three ecclesiastics of high standing in the Armenian Church at this time abandoned their errors and took a noble stand as reformers.
In 1827 Mr. Bird took his family to Ehden near the Cedars of Lebanon, by advice of a foreign physician, on account of the illness of a child. They leased the house of Lattoof el Ashshi, a Maronite friend. This was too much for the patriarch, and he issued a "curse" against him and all his family. The language of the curse reminds one of the Spanish Inquisition. "They are accursed, let the curse envelop them as a robe and spread through all their members like oil, and break them in pieces like a potter's vessel: let the evil angel rule over them by day and by night . . . let no one visit them or employ them or give them a salutation . . . but let them be avoided as a putrid member and as hellish dragons." The result of this was a riot in the village, an attack by the mob on Sheikh Lattoof and his family, and Mr. Bird's removal to another village, B'Whyta, under Mohammedan rule, where he had peace.
On the return of the missionaries from Malta, in May, 1830, the entire Protestant community in the Turkish Empire came out in a shore boat to meet them. It consisted of three persons. That was indeed, "a day of small things."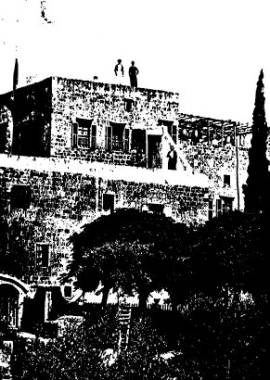 Burj Bird
On his return from Malta in 1830, Mr. Bird with Mr. Goodell, purchased the plot of ground in Beirut now occupied by the church, press, Sunday-school, girls' boarding-school and cemetery. He also built a mission house, which was called Burj Bird. It was, at the time, the largest building outside the city walls, and the pasha, fearing he was building a fort, demanded explanations. Being satisfied, he let the work go on. In 1833, Mr. Bird wrote his famous "Thirteen Letters " in reply to the Maronite Bishop Butrus. They were printed in Arabic at the American Press in Malta, which was removed to Beirut in April of that year.
The bishop had replied in print to Dr, King's "Farewell Letters," and as no rejoinder appeared, the Romish party gave out that the Protestants could not reply to it. This occasioned Mr. Bird's "Thirteen Letters," on the following subjects:
1. Baptism.
2. Papal Supremacy.
3. Clerical Celibacy.
4. Intercessors.
5. Linage Worship.
6. Purgatory.
7. Worship of Saints and Angels.
8. Transubstantiation and the Mass.
9. Use of Unknown Tongues.
10. Faith in the Pope.
11. Indulgences.
12. Persecution.
13. Tradition and the Scriptures.
14. Letter to Peter Paluchet, the Jesuit.
These letters were reprinted in Beirut in a neat volume and have been kept on hand up to this day. The book is based on the Bible and the testimony of the early fathers against the innovations of the papacy. It shows great research and is written in a candid and courteous spirit, and has been the means of enlightening multitudes. The original in English is in the mission library in Beirut written in a beautiful hand, and ranks with Kirwan's Letters and Gavazzi's Lectures. It should be published in the English language.
In 1835 Mr. Bird left for Smyrna on account of the health of Mrs. Bird and reached Boston October 15, 1836.
He was afterwards professor in the theological seminary at Gilmanton, New Hampshire. Removing to Hartford, Connecticut, he taught a high school for many years. His son William, afterwards a missionary in Syria from 1853 to 19o2, taught in this school, and had among his pupils Mr. J. Pierpont Morgan.
Mr. Bird died in Hartford in 1876, aged eighty-three years. His name will never be forgotten in Syria. He fought a good fight with principalities and powers and spiritual wickedness in high places. Two of his children and a granddaughter entered the missionary work: Mrs. Emily Van Lennep, Rev. William Bird, the beloved evangelist of Lebanon, and Miss Emily G. Bird.